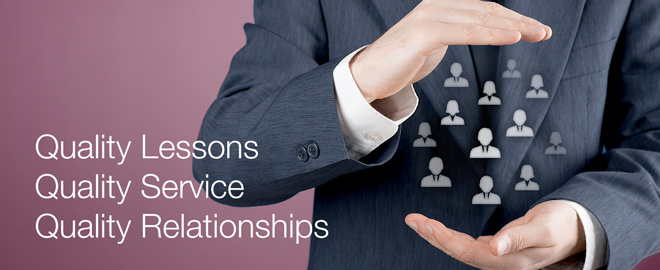 The Select Approach
Two areas that set us apart
The most common question we are asked by HR managers is, "What sets you apart from other language training companies?"  
Rather than responding with industry jargon and empty promises of holding a magical language key, our simple answer is A) we provide cost-effective language training solutions with an emphasis on quality and B) we provide close support to ensure that the course goes smoothly and you can get on with other things.
The Select Difference in the classroom
We understand that for the busy professionals in your company, developing language skills may not seem to be an easy endeavor. It requires hard work, determination, discipline, patience, and above all—motivation to succeed.  Therefore, it is vital to take part in a course directed by an experienced instructor that introduces important language concepts, provides frequent speaking opportunities, offers self-study guidance, and is motivating.
Unlike traditional methods which place emphasis on slogging through rote memorization and direct translation, our communication courses embrace the concept of active language production. Rather than only studying 'about' a language, it is more important for students to experience using it in connection with their business lives and surroundings.
Select Co.'s approach to language learning is based in the philosophy that communication skills are developed from:
setting results-orientated short- and long-term goals.
actively using the target language on a consistent basis both inside and outside the classroom.
using error correction methods to engrain grammar structures naturally.
building confidence through speedy repetition of useful language patterns and phrases.
establishing systematic self-study practice habits.
providing consistent homework activities to encourage practice between classes.
utilizing the student's authentic business context to further practice communication skills introduced in class.
introducing cultural insights that impact communication.
The Select Difference in support services
As an HR manager responsible for the professional development of your organization's staff, you are well aware that organizing and maintaining an effective training course is time-consuming and requires a certain level of expertise. Great care must be taken in conducting student-needs analysis, grouping classes, choosing the appropriate material, securing qualified instructors, monitoring attendance, and documenting student progress.
Our Sales & Support team works closely with you to ensure the entire process moves forward smoothly and is not a drain on your department's time and budget.
For over two decades Select Co. has guided thousands of students on their journey towards fluency in a foreign language using our approach. Contact us today to learn how we can do the same for the members of your team.