It was a good class in that the instructor repeatedly gave a lot of grammar corrections, such as articles, prepositions, verb tense, and pronunciation. He was an excellent teacher and had a lot of knowledge. He also paid attention to the details of our unclear conversation and helped us correct the mistakes.
Business Communication Course Student
The best thing about taking this course was the teacher. The class was fun and lessons were easy to understand, which encouraged me to continue—this is very important for English conversation lessons. I'm thankful to have had this teacher.
Business Communication Course Student
I wrote about content relative to my business situation. Despite the topics being quite specific, the teacher always gave an accurate reply. I really appreciated it. Especially because I can't always learn word nuance with a dictionary, having a native's help was ideal.
Email Writing Course Student
Experienced, Professional, Motivating.
Instructors who hit the mark.
Rest assured that your language training classes are led by instructors who deliver results. Select Co. instructors bring to the classroom their experience, professionalism and the ability to motivate learners to reach their full potential.
Coming from every corner of the globe, our qualified instructors blend their personal style and experiences together with Select Co.'s language learning philosophy to create an active and engaging classroom atmosphere.
Select Co. instructors:
lead a result-orientated curriculum
create ample speaking opportunities for each member of the class.
provide error correction aimed at eliminating common mistakes.
give advice on how to improve through self-study.
motivate and challenge students to practice outside of class.
bring into focus important cultural insights.
create a positive and enjoyable learning environment
TOTAL YEARS OF TEACHING EXPERIENCE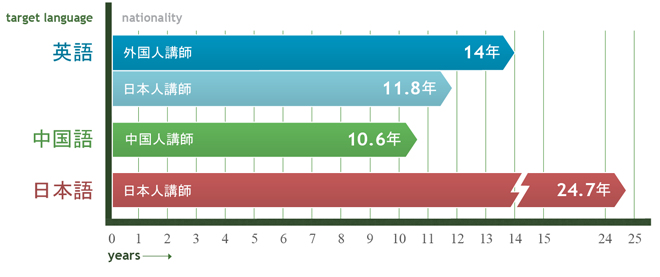 Not only are our teachers extremely experienced, over 90% of our classes are taught by someone with over 5 years teaching experience! That means our most experienced teachers are teaching more classes.
Moreover, all of our teachers, regardless of experience, receive an outstanding level of training and support.
TOTAL YEARS OF TEACHING EXPERIENCE AT SELECT CO.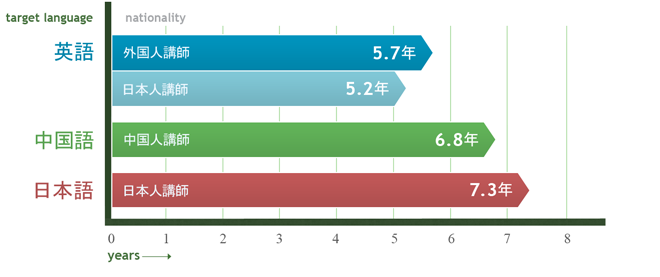 When teachers start working with Select, they usually stay with us. That level of loyalty and dedication to us means loyalty and dedication to you, your company and your staff. It also means a lot of time to work together and perfect the Select style of teaching.
PROFESSIONAL DEVELOPMENT
To maintain superior quality in the classroom, we invest time and resources in the professional development of our teaching faculty. Our instructor workshops are occasions where valuable teaching ideas are exchanged, recent educational trends are discussed, and Select's standards for the classroom are reviewed and reinforced.
Prior to the start of any new course, the designated instructor is given an extensive orientation on:
Client company's overview
Student level & learning expectations
Curriculum & material pacing
In addition, instructors receive regular observations from our sales staff and Teacher Managers to ensure that the results you expect are being delivered. At the completion of the course, we also work with the teacher to discuss student needs and other important details so we can improve our service to you in the future.